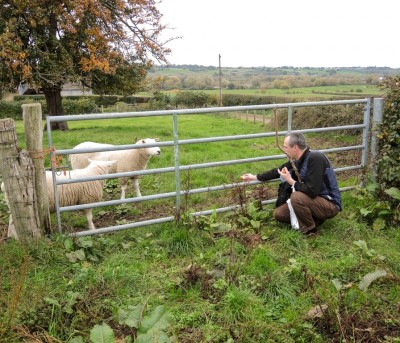 Sergey wrote an article about one of our country walks
Last Saturday at 10 o'clock in the morning we met in front of LanguageUK for a walk. When I say we, I mean our teacher Joanna and three students. Once everyone was there we got into a car and drove in the direction of Hersden. When we reached the town we parked our car on one of the streets and started our walking adventure.
On Friday I had been told that we would be walking in the countryside through the woods and meadows. I knew that it could be wet and muddy but I did not expect it to be as muddy as it was. I was wearing my only pair of shoes and in the first 20 minutes of the walk they were ruined. Aside from my wet feet, the rest of the walk was quite enjoyable.
The weather was nice, not too cold or too hot; neither was it raining. Walking along beside the quiet, murky river I noticed an abundance of birds. We could hear them singing all around us. The trail was pretty narrow and we walked in pairs. On the first part of our walk we went through the wetlands of the wildlife reservation and luckily for us we saw three wild ponies and two swans. Then we came out of the wetlands and kept on walking through a small town where we stopped to take a look at an old church. It was empty, though very well looked after.
We left the town by a very narrow road. In fact it was so narrow that every time a car approached we would cling to the side of the road in order to let it pass. On our way through the farmlands we saw some domestic animals such as cows and sheep. After passing through the farm we entered a forest trail and went down a hill; the surface became fairly slippery.
On our way through the forest we collected some chestnuts. At the end of the trail we came to another tiny town, the name of which escapes me. I don't know how long it took us to complete this walking trip. It could have been around two or two and a half hours.
In any case, we stopped at the local pub to have lunch. The interior of the pub was nicely decorated. The staff were very friendly although not pushy.
While we were debating our choice of menu, Joanna phoned Noel and told him where we were. By the time we had ordered our drinks he had joined us.
After an hour of talking and eating we decided to call it a day. On our return to the car, which we had parked a few hours earlier, we took a bus. I was home before 4pm. I enjoyed the walk in the countryside and I think it was a day well spent.
Sergey Herman