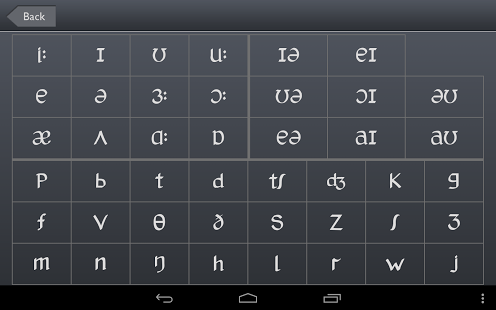 'Sounds – The Pronunciation App' is for students and teachers, and has been devised by internationally-renowned pronunciation guru, Adrian Underhill. Ask any of your teachers – they'll all have heard of him!.
There is an interactive phonemic chart, along the lines of the British Council online chart – by clicking on the symbols, you can listen to their individual sounds, and also to example words.
The chart  is free to download. However, for just £3.99 (or $5 USD), you can get so much more!
You can view and listen to over 650 words in the Wordlist, and record and playback your own pronunciation of these words. You can also buy new Wordlists when you've mastered that lot…
If you get bored with the same old exercises, there are lots of  quizzes to entertain you while you learn!
The app includes a built-in phonemic typewriter, and you can copy and paste the phonemic symbols into documents (on supported devices). The app works with AppleiPhone, iPad, iPod Touch and Android OS.
For teachers, there is the added bonus of lesson plans and instructional videos to help you plan your lessons.
Interested? Have a look – www.soundspronapp.com
This is the second in Sam's series on language learning apps that help you with your English.
number one is Quizlet, a vocabulary app. Read Sam's blog about Quizlet HERE.