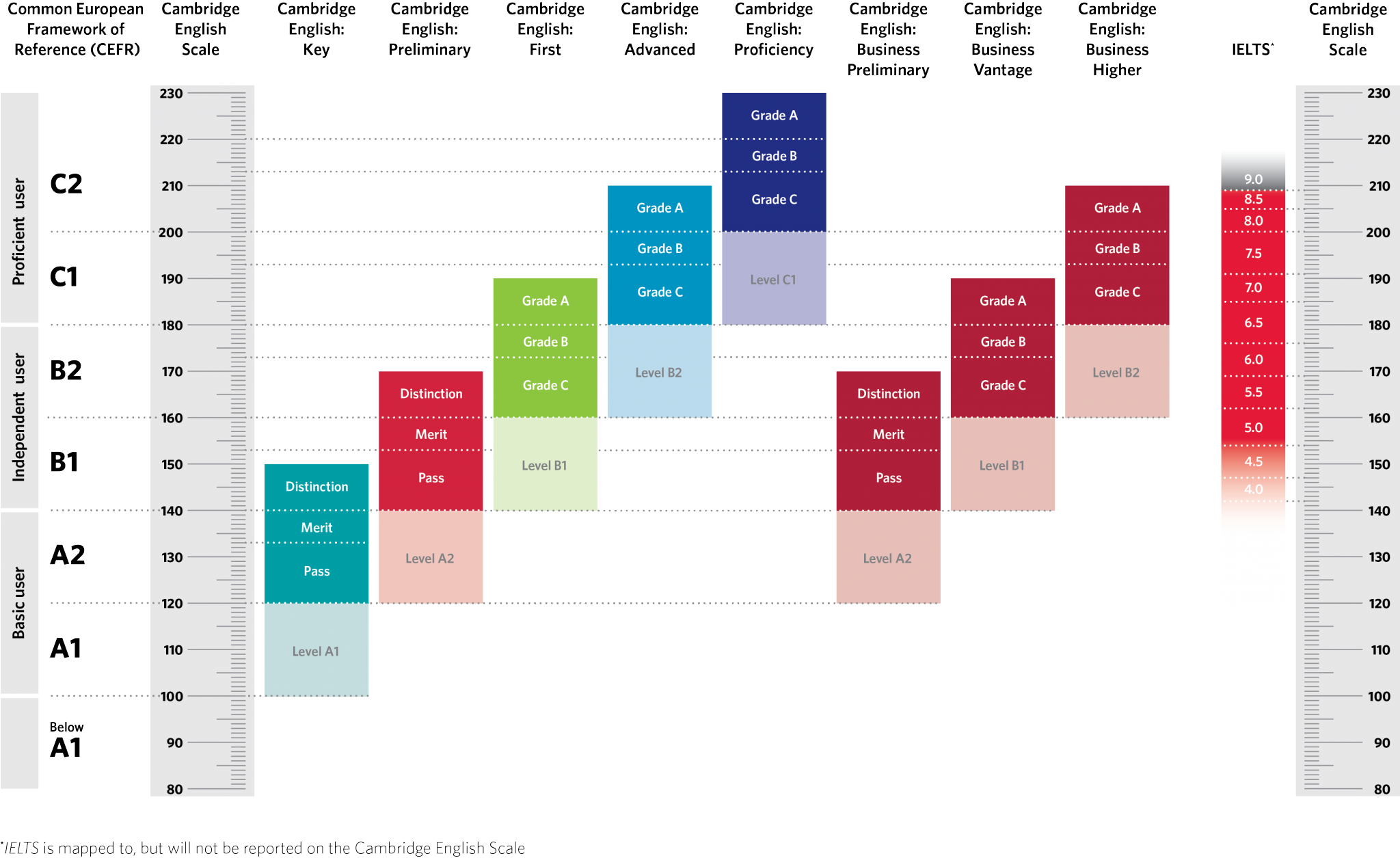 Increasingly, your employer wants to know that your English is good enough for your job. That means understanding what you hear and read, and being able to make people understand what you say and write.
That is the reason why more and more people are asking themselves, 'How do I find my English level?'
So what's the answer?
You can take an online test. We use one to put our students into the right level class for them. Perhaps you are reading this because you have taken our test.
The levels that we use are based on the Common European Framework of Reference for languages (CEFR).The CEFR has six levels: A1, A2, B1, B2, C1, C2¹. The A grades denote a 'basic user'; the B grades an 'independent user; and the C grades a 'proficient user'.
However, online tests are only a guide. To find your level in the skills that you need to work in English, you should consider taking an examination; for example a Cambridge exam, available at many levels: KET, PET, FCE, CAE and CPE. The advantage of public exams like these is that they are tested and monitored for consistent results.
The Cambridge exams are now aligned with the CEFR, so your certificate shows both your grade in the exam and your level according to the CEFR scale. That means you have proof of your English ability to show your employer.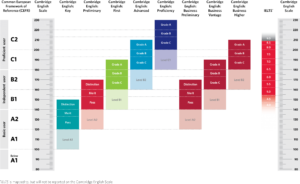 There are other benefits to the Cambridge system. If, for example, you achieve a 'Distinction' on the PET, usually seen as a B1 level exam, your certificate will show that you are a B2 level user of English. In another situation, if you narrowly fail the Cambridge Advanced you will still be awarded a B2 CEFR band. You can see this in the graphic above, which shows the CEFR and the Cambridge Scales.
For some people, a course of English will take them to the next level by improving their skills over a period. At LanguageUK we offer that kind of course, with success. Look at our English Courses page.
For others, it is not the level but the certification that is important; something that you can show to your employer that 'proves' your level. We are going to offer short courses this year to enable students to take B2 (FCE) and C1 (CAE) exams at our local Cambridge exam centre. The courses will focus mainly on the content of the exam and some of the techniques that will help you to pass it.
If you would like to know more about these short courses do get in touch using our online form here.
¹WHAT DOES MY SCORE MEAN?
A1  – this is often described as 'beginner' at English schools
A2  –  'elementary' Cambridge KET exam
B1 –  'intermediate' Cambridge PET exam
B2 – 'upper-intermediate' Cambridge FCE exam, now called Cambridge First
C1 – 'advanced' Cambridge CAE exam, now called Cambridge Advanced
C2 – 'proficiency' Cambridge CPE exam, often known as 'Proficiency'.