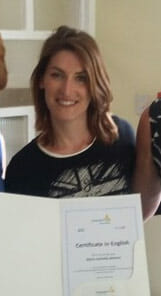 One of our students kindly agreed to write about her experience of passing CAE ,the Cambridge Advanced exam. Carlotta could only take a week's course with us, but she was able to benefit even from a short stay.
"I decided to take the CAE exam a few months before my experience at LanguageUK school, in order to improve my CV and find a proper job. I started to prepare for it by myself and just as I was coming to the end of my text-book I thought it would be a good idea to go to England and refresh my conversation skills (I was convinced that my English was a bit rusty by then). So I asked for some advice and I began looking for a school on the British Council web page.
I discovered a beautiful place called Broadstairs and of course LanguageUK… I contacted the school many times because I was worried about almost everything and they were really patient with me all the time. When I got there, it turned out to be a fantastic place to spend my week learning English. The staff, all the teachers and my super host family were great and really committed. They make you feel at home. Due to the short time I could stay there, the course I took was an intensive one in general English (but during our lessons my wonderful teacher Sam gave me lots of tips for the exam as well) and I had some extra hours focused on specific preparation for CAE. From the very first moment, I received all the help I needed and special attention to my exam training. Finally, after hard work, I passed the exam!
That week in Broadstairs is definitely the best thing I've experienced this year. I met amazing people and professionals and I had a great time!! I hope to come back very soon… All I can suggest is: go there, learn and enjoy!"
Carlotta Bolzoni, Italy (Carlotta was with us for a week in June 2015).